Ireland's President Mary Macaleese signed the country's civil partnership bill into law this morning: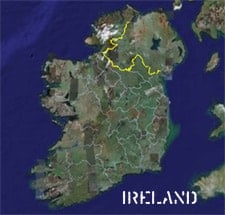 "It extends marriage-like benefits to gay and lesbian couples in the areas of property, social welfare, succession, maintenance, pensions and tax.
The act also offers additional rights and protections for other cohabiting couples including a redress scheme for financially dependent long-term cohabitants on the end of a relationship…Changes to the tax and social welfare code will be made in the next finance and social welfare Bills. The Civil Partnership and Certain Rights and Obligations of Cohabitants Act 2010 is expected to be commenced when those changes take effect. The first civil registrations for same-sex couples are likely to take place next January."
Said Minister for Justice & Law Reform, Mr. Dermot Ahern:
"This is one of the most important pieces of civil rights legislation to be enacted since independence. Its legislative advance has seen an unprecedented degree of unity and support within both Houses of the Oireachtas.
This Act provides enhanced rights and protections for many thousands of Irish men and women. Ireland will be a better place for its enactment. This new law provides, for the first time, legal recognition for same-sex couples in Ireland. It is of tremendous social significance, for the couples who can now register as partners, for their friends and families – ultimately, for all of us."
The bill passed Ireland's legislature, amid "measured and calm" protest, earlier this month: