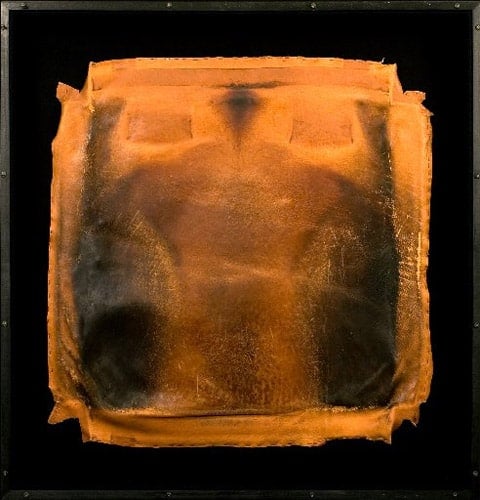 San Francisco artist Daniel Goldstein's work, a series called Icarian after the maker of the gym equipment it was created on, is getting some attention at the Station Museum of Contemporary Art in Houston.
The works are often compared to the well-known Shroud of Turin: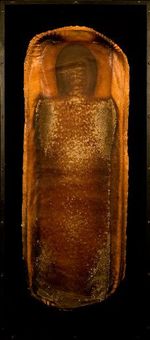 "Goldstein discovered these artifacts not on an archeological dig, but in a popular San Francisco gym he frequented during the 1980s and 1990s. Recorded on pieces of leather that once covered the gym's equipment, the impressions reflect the former presence of not one human figure, but thousands of men who once rested against them as they sweated through their workouts.
Like Goldstein, nearly all the men whose body weight and perspiration contributed to a collective, unconscious form of printmaking were gay and HIV-positive. Unlike Goldstein, most of them didn't live long enough to witness and benefit from the pharmaceutical breakthroughs that transformed HIV from a death sentence to a chronic but manageable condition."
Writes Goldstein: "A sort of town square for the men who had come to San Francisco to live and love openly, in those early plague years (the gym) also became the place to exchange information, to find out who was ill, who had died. Working out took on an even greater ritual significance as gay men struggled to maintain the exterior appearance of health and to gain some measure of control over the disease which had begun to destroy them from the inside."
The works, which are part of an LGBT exhibition called Because We Are, will be on view through September 20.