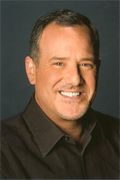 Publicist Howard Bragman, who many celebrities have hired to assist them in coming out of the closet, is developing a show with A&E based on just that premise, Nikke Finke reports:
"Casting is still in process. Bragman has been working with celebrities coming out of the closet for two decades and recently orchestrated exposure for Meredith Baxter and country singer Chely Wright. Bragman and Baxter were part of a 'Coming Out in Hollywood' panel at Outfest, the gay and lesbian film festival, this past weekend, and Bragman mentioned that if anyone knows a high-profile celebrity coming out of the closet he has a great TV opportunity."
Title of show? Coming Out.