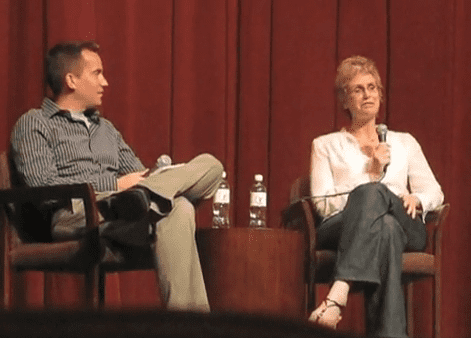 It's been quite a week for Jane Lynch. She was nominated for an Emmy for her work on Glee, received an Achievement Award at Outfest, and yesterday she sat down to discuss her career as part of a panel at the film festival.
She took the time to talk about how frightening the aspect of coming out was to her and her fear of what it might do to her career. She got over the fear part pretty quickly.
"It's funny, when I was younger I used to lie in bed and think, 'What will I do if I ever get famous and they find out I'm gay?' I would really angst about that. It just happened so naturally and I didn't hide anything…It's the people that came before me that have really blazed a trail for me. Ellen DeGeneres, Rosie O'Donnell, Melissa Etheridge, Kd Lang, those people that stood up when it wasn't popular and said, 'I'm gay – deal with it'. I never let anything like my sexuality stop me from pursuing what I wanted to do and what I do has nothing to do with my orientation really…I play straight people all the time, I think I'm an actor first before I'm a gay person."
While accepting her Achievement Award during Outfest's opening night gala, Lynch had some very appreciative things to say about her Glee co-star and fellow Emmy nominee, Chris Colfer. Yes, she essentially called him an old lady – but she meant it as a compliment:
"The entire world has just embraced you and who you are, but none more than gay and lesbian kids who now have a courageous and fashion-forward role model and uber cool guy to look up to. It's a lot to put on your young shoulders, but I don't worry about you because you have a wise old grandma that lives in you, keeping your feet on the ground and making sure everyone has enough to eat."
Watch a highlights reel of her panel discussion in which the actress goes so far as to say that Glee has given some fans of the impactful show "a reason to live." That's AFTER THE JUMP.