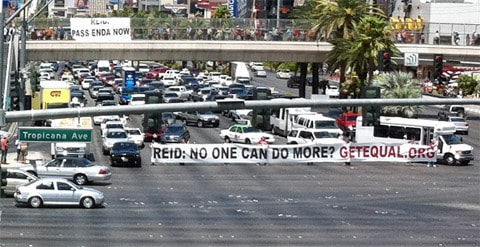 Twenty activists from GetEQUAL shut down the Las Vegas strip this afternoon after unfurling a banner calling on Senate Majority Leader Harry Reid (D-NV) to bring the Employment Non-Discrimination Act (ENDA) to a vote.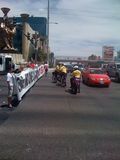 Eight activists were arrested, including Lt. Dan Choi and GetEQUAL co-founder Robin McGehee after stopping traffic on Las Vegas Boulevard and unfurling a banner that read "REID: No One Can Do More? GetEQUAL.org".  Others formed a picket line with signs reading "I can still be fired for who I am" and unfurling a banner across the pedestrian walk between MGM and New York, New York casinos thatread, "REID: PASS ENDA NOW! GetEqual.org."
Despite promises from Democratic leadership that action would be taken on the bill this session, no vote has been scheduled.
There is an excellent set of photos from the demonstration HERE, shot by Steve Friess of Vegas Happens Here (as are the photos in this post).