A jury has awarded a gay Maine man $1 million in a lawsuit against his former employer, Express Jet Airlines, the Press Herald reports: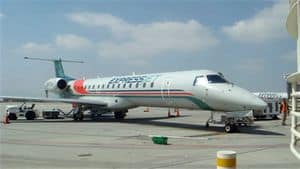 "Edward Russell's attorney, Guy Loranger, argued in Cumberland County Superior Court that his client was repeatedly passed up for promotion because he is gay. In late June, a jury agreed after hearing three days of evidence and deliberating for six hours.
The jury found that Russell's former employer, Express Jet Airlines, had violated Maine's Human Rights Act, which bars discrimination based on sexual orientation. Jurors awarded Russell $500,000 for emotional distress, $500,000 for punitive damages and $47,000 in lost wages.
Loranger said Tuesday that the judge will determine what award caps to apply; he speculated the overall award will be capped at $547,000, plus attorney's fees and other costs. Attorneys for the company are arguing for a lower cap, Loranger said, and have said they would appeal.
Express Jet's Vermont-based attorney could not be reached for comment, and the company's media relations office did not return a call for comment.
Loranger said this is the largest sexual orientation discrimination award in Maine, a fact confirmed by John Gause, corporate counsel to the Maine Human Rights Commission."