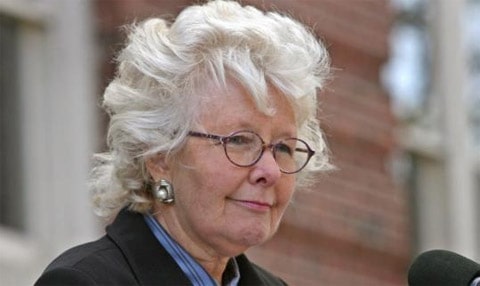 Margaret Marshall, the 23rd Chief Justice of Massachusetts' Supreme Judicial Court who wrote the ruling legalizing same-sex marriage in Massachusetts is retiring, the AP reports:
"Chief Justice Margaret Marshall said Wednesday she will retire in October to spend more time with her husband, former New York Times columnist Anthony Lewis. The two-time Pulitzer Prize winner retired in 2001 and was recently found to have Parkinson's disease.
Marshall is a native of South Africa. She was first appointed to the bench in 1996 after four years as general counsel and vice president of Harvard University. She became chief justice three years later.
She was criticized as a judicial activist by gay marriage opponents after writing the 4-3 decision that made Massachusetts the first state to legalize the practice."
Wrote Marshall in that ruling:
"Marriage is a vital social institution. The exclusive commitment of two individuals to each other nurtures love and mutual support. It brings stability to our society. For those who choose to marry, and for their children, marriage provides an abundance of legal, financial and social benefits. In return, it imposes weighty legal, financial, and social obligations."