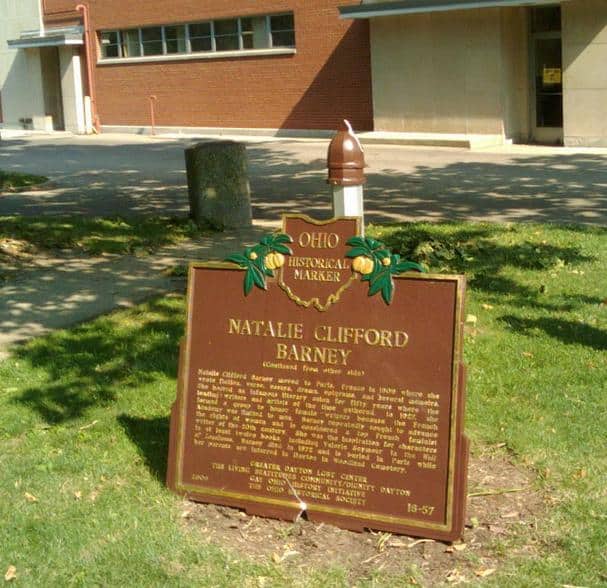 Back in October, the city of Dayton, Ohio erected a marker honoring openly lesbian Natalie Barney, who published gay literary works at a time when very few would even consider it. As Andy noted last year, i is the state's first monument to indicate a person's sexual orientation.
Unfortunately, it took less than nine months for vandals to target the marker.
The Dayton Daily News reports:
The marker recognizing Natalie Barney — literary patron and lesbian
author who lived most of her life in Paris — was knocked down in Cooper
Park some time before Wednesday, July 7, said John Gantt, executive
director of the Greater Dayton LGBT Center.

"A friend noticed it
had been torn down and told me about it," Gantt said. "I called police
and they came and took a report."

The marker was installed Oct. 25
in the park after the Ohio Historical Society and members of state and
Dayton area gay rights organizations led efforts to recognize Barney for
her place in history and pioneering openness about her sexuality.

Officials
with the center said they expected the marker to be vandalized and had
an insurance policy marker.

The sign was not significantly
damaged, but a six-inch long crack in the sign and was ripped off the
pole, Gantt said. He said his group has the sign and will put it back
up.

"It's a hate crime because why would someone tear it down and
not take it," Gantt said. "They just left it there and no other sign was
damaged."
According to WHIO in Ohio, repairs will reportedly cost $1000. Police are investigating the vandalism as a possible hate crime.