Same-sex marriage off to slow start in Portugal: 20 couples have married.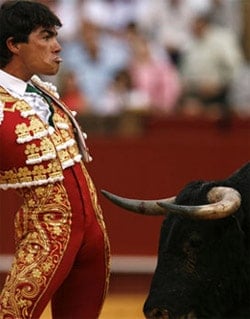 Spanish region of Catalonia bans bullfighting: "The ban — the first in mainland Spain — was hailed as a major victory by animal welfare groups that have long crusaded against what they consider to be a barbaric and outdated practice."

Russell Brand wears his undies to church — for remake of Arthur.

Nathaniel Rogers hits the Mad Men premiere in Times Square.

Old Spice's recent YouTube viral campaign was a huge success. Sales of its Body Wash are up 106%.

Great White Shark tagged off Cape Cod.

Cincinnati Episcopal priest resigns over gay issues within the church: "The Anglican Communion has been in a state of crisis for several years over the choice of the American Episcopal Church to ordain bishops living in openly homosexual relationships and to pronounce liturgical blessings on people living in same sex relationships."

Joan Rivers spotted shooting her reality TV show.

Sorry, not yet. Probably never.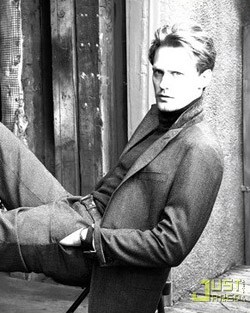 Alexander Skarsgard is the new face of Hickey Freeman.

The NYT looks at how marriage equality has affected Cape Town, South Africa: "More than 3,000 same-sex couples have been married in South Africa, with about half of those couples including at least one foreigner, the government says. The law permitting same-sex marriage has begun to pave the way for greater tolerance of homosexuality, advocates contend, and the weddings have provided a shot in the arm to companies catering to those tying the knot.
'Apartheid suppressed tolerance, but once that was out of the way our society has moved so fast and most people just go with the flow,' said Mr. Brits, a nondenominational minister."

Texas Alcoholic Beverage Commission TABC has only made 81 arrests in 2010 for public intoxication as opposed to 761 in 2009. Did the Rainbow Lounge Raid in Fort Worth have something to do with the decrease?

James Franco's request to teach "special class" at Yale denied.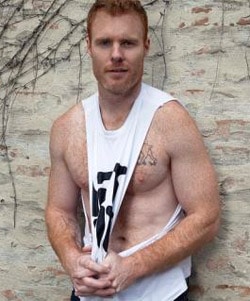 A Q&A with Hercules and Love Affair's Andy Butler.

Federal judge upholds dismissal of Michigan counseling student who refused to treat gay clients because of her religious beliefs: "In an order granting summary judgment to the university on Monday, Judge George Caram Steeh of the U.S. District Court in Detroit held that the university's requirement that the student be willing to serve people who are homosexual was reasonable, and did not amount to an infringement of the Christian student's constitutional rights to free speech and free expression of religion."

CBS President Nina Tassler and CBS "not happy with ourselves" over failing grade from GLAAD on LGBT representation.

NJ library removes Queer Anthology, cites child pornography?

Phoenix International Raceway reaches out to gay NASCAR fans: "PIR recognizes that they have a very diverse fan base and they want to reach out to all of them. While covering the Subway Fresh Fit 500 in April, Queer4Gears.com founder, Michael Myers began conversations
with Phoenix International Raceway officials.
To his knowledge, Myers said that this will be the first time that any NASCAR sanctioned facility has reached out to fans in the L.G.B.T. community.
'Just a small push like including the L.G.B.T. community on the official web site of Phoenix International Raceway is a step in the right direction for uniting the different stereotypes that surround the racetracks on a weekly basis' said Queer4Gears.com founder Michael Myers."