Arizona's controversial immigration law was set to go into effect at midnight tonight, but U.S. district Judge Susan Bolton today blocked two of the key provisions in SB 1070, the AP reports: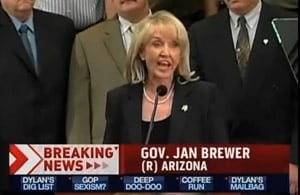 "Bolton on Wednesday halted implementation of the parts of the law that require police to determine the status of people they stop and think are in the country illegally. She also forbade the state from charging anyone for a new crime of failing to possess immigration documents.
Bolton's ruling found that the Obama administration was likely to prevail at trial in proving the two provisions, and two other ones in the sweeping law, were an unconstitutional attempt by Arizona to regulate immigration. Arizona is expected to immediately appeal the decision to the U.S. Ninth Circuit Court of Appeals in San Francisco."
CNN: "The Justice Department issued a statement saying the court 'ruled correctly.' … 'While we understand the frustration of Arizonans with the broken immigration system, a patchwork of state and local policies would seriously disrupt federal immigration enforcement and would ultimately be counterproductive,' the statement said. 'States can and do play a role in cooperating with the federal government in its enforcement of the immigration laws, but they must do so within our constitutional framework.'"