Gay Middle East reports that a young man in Iran, Ebrahim Hamid, has been sentenced to execution in Iran based on a false accusation of sodomy:
Hamidi was sentenced to death for an accusation at an attempt at a sexual assault. Following a fight in the countryside outside Tabriz with a family against which his own had been feuding for some time, Hamidi was picked up with three friends by the police. The four were told that one of the guys from the other family with whom the four were fighting accused them of an attempt at sexual assault. The "testimony" the accuser gave to support this claim was that during the fight his own trousers were 20cm "below what is normal", implying that the four attempted to strip him naked and assault him.

The four accused were arrested based on this allegation and in the initial interrogations they were tortured and pressured to confess to the crime. Ebrahim Hamidi signed his confession sheet to stop his torture; he was hanged from his legs and beaten, in addition, he was battered so badly that his interrogators broke a glass desktop during questioning. According to his lawyer, and the three friends who witnessed the beatings, he confessed to the crime he did not commit. All four were tried in two consecutive provincial criminal courts and were sentenced to execution.

During their third trial, the three were cleared of charges and Ebrahim was
again sentenced to execution. This despite the fact that two out of the five
judges admitted that none of the accused were guilty of the allegations.
IRAQ
In other news, a gay safe house has been raided in Iraq, five men have been arrested, and their whereabouts are unknown: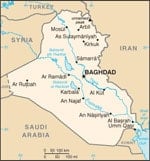 "Hard on the heels of an Iraqi police raid on a Kerbala 'safe house' for gays, run by the London-based Iraqi LGBT, comes news that there has been another raid – on a Baghdad male beauty parlour, with five men arrested.
Iraqi LGBT reported this evening that five gay mean were seized by 'Interior Ministry forces' in the raid on June 25.
The latest raid was on a house used as a business for services such as waxing and massage in the Baghdad district of Karada.
Such services have long been used in a country with a body building tradition.
Iraqi media coverage, which included three days of TV reports, however described the house as used for prostitution, according to Iraqi LGBT.
However, witnesses have told Iraqi LGBT that this was not the case. Neither waxing nor massage is illegal in Iraq however it is 'forbidden' by Shia clerics.
Despite claims to the contrary, homosexuality is illegal in Iraq, and it is on this basis that the raid happened and the men were arrested, the London group claims."
Local newspapers also reported on the raid:
"Eyewitnesses who were outside the building say Ministry of Interior forces raided at 3pm. Those on rooftops heard screams for help and saw the men being severely beaten by uniformed men carrying cattle prods.
They say one was taken into custody on a stretcher, Iraqi LGBT reports.
One of the eyewitnesses who spoke with Amnesty International has since disappeared.
Iraqi LGBT has received no information about where the men were taken. However, previous seizures of gays, lesbians and transgender people have resulted in them being handed to religious militia and their subsequent torture. Often this is followed by the discovery of their mutilated bodies.
An Iraqi online news site quoted 'security sources' in a local newspaper [report in Arabic]saying: 'After gathering evidence and information the police issued an order from a judge to raid the house where the house-owner of the shop and a number of gay, mostly college students were caught red-handed, and have confessed openly their shameful work which is contrary to public decency, they were seduced by the devil to commit these acts.'
The newspaper went on to say that forces had 'captured a laptop computer and CDs from a pornographic network'.
This evening, Iraqi LGBT is calling on the British and American governments to follow the lead of Amnesty International and Human Rights Watch and investigate – and condemn – the raids."