The ACLU of Alaska and three same-sex couples have filed suit challenging the state's discriminatory tax laws, the ACLU reports: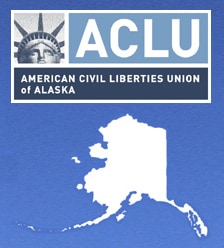 "Three Alaska same-sex couples have filed a lawsuit today challenging the state of Alaska's tax-assessment rules, which discriminate against same-sex couples by denying them equal access to a property tax exemption for senior citizens and disabled veterans. Those who qualify and who live with same-sex partners are only permitted to, at most, half of the exemption available to opposite-sex married couples because they are treated as roommates rather than families.
Each couple is denied full access to a $150,000 property tax exemption available to similarly situated opposite-sex married couples. In a 2005 decision, the Alaska Supreme Court ruled that a similar exclusion of committed same-sex couples – in that case from the family health care coverage afforded to married state workers – violated the state constitution's equal protection clause. But same-sex couples continue to be subjected to the discriminatory tax assessments. The couples, represented by the American Civil Liberties Union and the law firm Davis Wright Tremaine, are asking that the Alaska courts declare this discriminatory law, too, to be unconstitutional."
More on the case HERE.