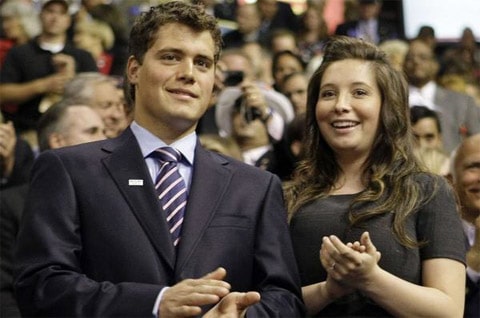 The Palins are setting such a good example for American families.
Bristol Palin told People magazine yesterday that she broke up with Levi Johnston because she claims he told her, on the day they announced their engagement, that he might have fathered a child with another teenage girl:
"It's over. I broke up with him. There's been no remorse…The final straw was him flying to Hollywood for what he told me was to see some hunting show but come to find out it was that music video mocking my family. He's just obsessed with the limelight and I got played.
Bristol has reportedly moved back in with Sarah and Todd:
Said Sarah Palin to People: "I wish for Bristol to be able to move forward in life with her same forgiving, gracious, optimistic spirit, but from henceforth she'll know to trust but verify. Bristol is strong, she is independent, and she knows what is right for her son."
And now a response from Levi's camp:
"According to Levi's manager, Tank Jones, Bristol doesn't exactly have her story straight … and that Levi believes the two broke up over a 'misunderstanding' and 'misinformation.'
Jones tells us Levi is definitely not the father of an unborn illegitimate baby of an ex-girlfriend. He also tells us that Levi did not shoot a music video 'mocking" the Palins' … despite what Bristol told People.com.
As for their 19-month-old son Tripp, Tank tells us Levi will continue to co-parent with Bristol and 'take care' of his financial obligations.
Tank also notes that Levi is 'not happy' about the split — and tells us he wouldn't be surprised if the two eventually got back together sometime in the future."