In late July, the New Jersey Supreme Court declined to hear a case brought by Lambda Legal on behalf of six same-sex couples following the rejection of a marriage equality bill in January by the state senate.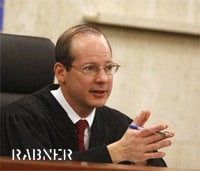 Some, now, are looking for the reasons why three members of the court voted not to take the case and say it's because they are afraid of being replaced by Governor Chris Christie:
"Those members — Chief Justice Stuart Rabner and Justices Roberto Rivera-Soto and Helen Hoens — voted against a motion to have the court immediately revisit its earlier decision in the Lewis vs. Harris case that, in 2006 ruled the Legislature must provide marriage-like rights to same-sex couples. The court then left the details up to lawmakers and they decided to create 'civil unions' rather than extend marriages to gays and lesbians. The three judges who don't have to worry about reappointment — Justices Virginia Long, Jaynee LaVecchia, and Barry Albin dissented from the order. They wanted arguments on the motion to go forward. Coincidence?
'I think the three justices who voted against the motion looked over their shoulders and saw Chris Christie,' says Frank Askin, a Rutgers Law School professor and constitutional scholar in Newark. 'There is no question in my mind that fear of what the Governor would do played a part in that decision.'"
Christie has the power to appoint other justices, as he did with Justice John Wallace Jr. in May.
Said Winnie Comfort, the court spokeswoman: "There won't be any comment. Of course, people are free to speculate. There is nothing we can do about that."