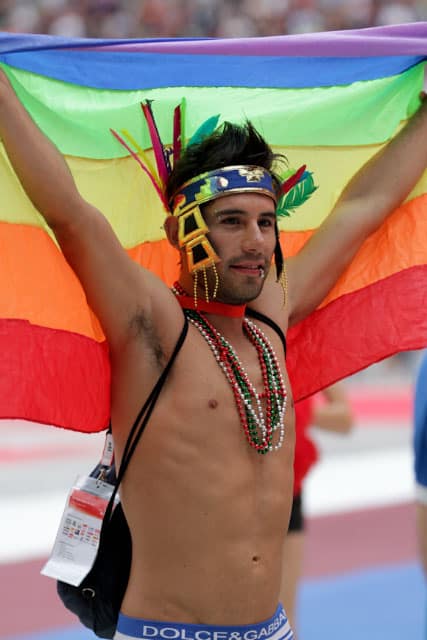 Let the games begin. The Gay Games commenced in Cologne yesterday. The Earth Times reports on the opening ceremony:
Foreign Minister Guido Westerwelle delivered the opening address in Cologne's Rheinenergiestadion. Homosexuals are asking for respect, not privileges, he said. Westerwelle's male life partner, Cologne entrepreneur Michael Mronz, was in attendance.

The Eighth Gay Games, also considered the world's largest rally for the rights of gays and lesbians, are being held under the motto, "Be part of it!" Held every four years since 1982, the Cologne games are the first to been held in Germany. Pop singers Taylor Dayne and Agnes performed amid a colourful, choreographed show featuring 1,500 participants. The opening ceremonies included the lighting of a flame. Nearly 10,000 athletes from 70 countries were expected to compete in 35 disciplines, including same-sex pairs figure skating, billiards and chess. The oldest competitor is a 92 man from the United States who plans to compete in body building.
Watch videos of the ceremonies, including the lighting of the cauldron and Dayne sing the Gay Games anthem, "Facing a Miracle," AFTER THE JUMP.
Head on over to Outsports for some great, thorough coverage.
Meanwhile, representatives from Cleveland are in Cologne for research purposes as that city will host the  Games in 2014.
Also, it looks like Cleveland Synergy Foundation, the non-profit group that helped bring the Gay Games to Cleveland, is out as the official promoter. The Cleveland Plain-Dealer reports: "While no one will say what happened, Synergy appears to be out as an organizer for the 2014 Games. The Federation of Gay Games announced in a news release earlier this month that it had ended its relationship with Synergy. The city of Cleveland, meanwhile, refused to advance Synergy $38,000 in travel-related expenses for the games in Cologne, citing the group's failure to submit reports in a timely manner."