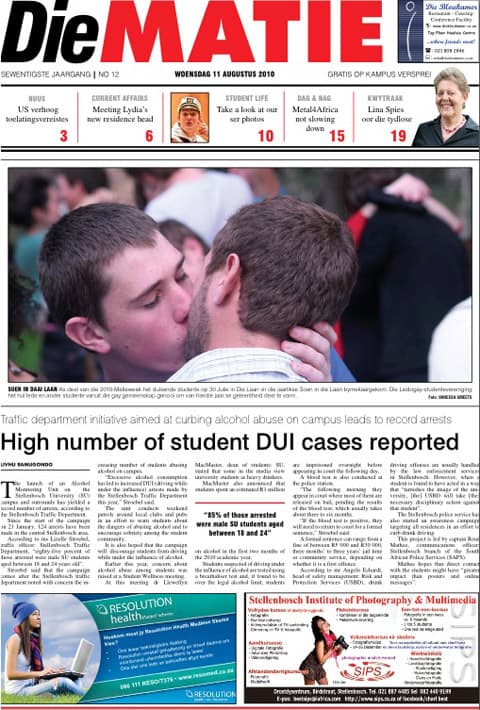 A photo of two men kissing on the front page of the student paper of South Africa's Stellenbosch University is creating controversy for the paper's editor, iafrica.com reports:
"The photo was taken during the annual 'Kiss in the Avenue', which involves students trying to set a record for the most couples kissing during a single event.
Apparently members of the university's Gay and Lesbian Organisation usually feel too intimidated to take part in the event, but this year decided to participate and managed to recruit friends from University of Cape Town and the University of the Western Cape to support them.
Outgoing editor of Die Matie Annelize Kloppers said the reaction to the picture was quite unexpected.
'The most interesting thing was to watch people's reaction as they picked up the newspaper. Some of them asked me, 'What were you thinking? …Some people tore the picture out of the paper or crossed it out with a marker.' … The editor says she has been innudated by calls to either congratulate or chastise her about using the picture.
'This is the biggest reaction that I've had to any story ever,' Kloppers said."
It's the best selling edition of the paper in four years, and the photo has also apparently been helpful to the student group which organized the event:
"The Lesbigay organisation, which arranged transport to the event for the two men in the photo, says it has gained 60 members due to the publicity."
Eyewitness News adds: "One of the kissers, Bjohn Czepan of UCT, said he did not think Stellenbosch was ready for their bold stance.
'I know many people have a problem with seeing two guys kissing each other,' said Czepan.
Some students have expressed their horror on Facebook and said the paper was seeking cheap publicity, while others are in favour of the bold statement."