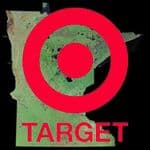 The Human Rights Campaign just sent over this statement in response to questions raised by radio host Michelangelo Signorile in an interview with HRC's Vice President of Communications & Marketing Fred Sainz about the Target boycott. 
In the interview, Signorile noted that HRC, despite Target's refusal to "make it right" with the LGBT community regarding its donations to anti-gay PAC MN Forward, continued to recommend that LGBT consumers shop at Target in its buyer's guide.
That is now changing, according to HRC's Press Secretary Michael Cole:
The recent political contributions by Target and Best Buy are cause for reflection on the criteria used for future editions of the Corporate Equality Index (CEI). While considering all of this, it's important to keep in mind that the CEI has made a tremendous impact in the real lives of LGBT people in large part because it has been a predictable and transparent roadmap for companies to institute fair workplace policies. Instead of making capricious decisions about scoring criteria, we believe that a responsible consideration of all of the facts is the smartest way to move forward.

Already complicated, the Citizens United decision has made campaign finance issues even more complex. HRC is thoughtfully studying the many ramifications of political giving by companies in this new reality.

The CEI, upon which the Buyer's Guide is based, was completed in June 2009. Under that set of criteria, both Target and Best Buy scored 100 percent. The Buyer's Guide available on our website was released in November 2009 and is representative of the information known to us at the time. Because we understand the impact of leaving Target and Best Buy on the various products associated with the Buyer's Guide, both companies will soon be removed from it.

HRC will not encourage people to shop at either store and believes that consumers should make their own decisions after careful consideration of all of the information available to them.