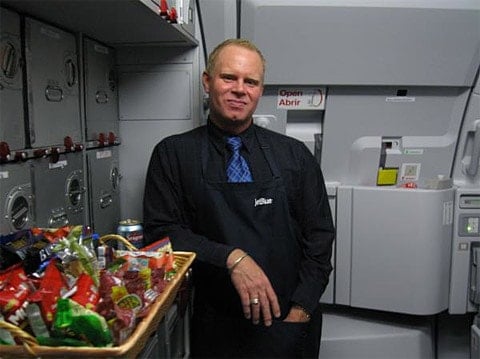 Overnight celebrity Steven Slater, who now has Facebook pages and websites dedicated to him, was arraigned in court today on felony charges of reckless endangerment and criminal mischief stemming from his dramatic exit down the emergency slide of an aircraft at JFK airport yesterday, following an altercation with a passenger.
"Port Authority police said it took jetBlue 25 minutes to report the incident, allowing Slater time to leave the scene.
Cops found him in bed with his boyfriend when they arrived to arrest him at a beachfront home in the Rockaways with a porch overlooking the Atlantic Ocean, sources said.
He boasted to skeptical cops that he really did escape by chute with his carry-on luggage.
'Oh, yes, I did! I threw them down first and I went down after,' he told cops, sources said.
He was grinning as police walked him in handcuffs to a squad car. 'He left with a big smile on his face,' said neighbor Curt Karkowski."
"Before a packed courtroom, Judge Mary O'Donoghue set bail at $2,500. Slater, 38 and a career flight attendant, is charged with criminal mischief and reckless endangerment. His attorney, Howard Turman said his client is expected to post bail Tuesday.
Slater's appearance in Queens Supreme Court was accompanied with much fanfare. He walked into the courtroom in a green shirt and plaid shorts, wearing what looked like a smirk on his face — a reaction his attorney said was prompted by all the media coverage. 'I think he can't believe the amount of attention this is getting,' said Turman, a legal aid.
Turman did all the speaking for his client during the five-minute arraignment, and O'Donoghue ordered Slater to stay away from two airline employees who offered witness statements — something both sides said was a standard procedure."
"Mr. Turman said that on the ground at Kennedy, the female passenger 'was outraged and cursing' at Mr. Slater, who 'wanted to avoid a conflict.'
Law enforcement officials said that after the passenger cursed at Mr. Slater, he grabbed the intercom, cursed her out, bid passengers goodbye, grabbed a beer, and activated the inflatable exit chute.
When asked why Mr. Slater chose to go avoid the conflict by taking the emergency slide, Mr. Turman replied, 'It was right there.'"