This week in the Lance Bass – Lorenzo Martone dating saga: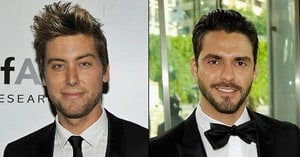 "The former 'N Sync singer has been happily dating Lorenzo Martone – designer Marc Jacobs's former fiancé – for two months, a source close to the pair tells PEOPLE.

 'They're dating each other regularly, really like each other and enjoy each other's company,' the friend tells PEOPLE. 'They're going to take it one day at a time and see how it goes.' Although the pair met briefly a few years ago, they reconnected at an amfAR event in early June, following Martone's split from Jacobs.

'Lance wasn't interested in dating right away because he was getting over his own breakup with [Queer Eye for the Straight Guy's] Kyan Douglas,' says the friend. 'But Lorenzo was persistent, so they started talking and slowly spending more time together and really hit it off.'"