Modern Family will one day feature a gay wedding, the NY Post reports.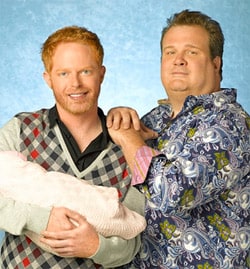 Said Eric Stonestreet: "There is no doubt that is going to happen. I don't know how that would happen with the real life legality…Maybe it would be a destination (wedding). Us going somewhere that gay marriage is legal. But they have to save some of that stuff. We hope to be on the air for seven years." 
Adds producer Christopher Lloyd: "Frankly we have stayed away from anything that feels overtly political. It is just not the style of our show. But we wouldn't rule it out."
In the works, however, is the possible introduction of a second adoption, and the arrival of a flamboyant gay friend, played by Nathan Lane:
"Broadway and film star Nathan Lane will guest star on ABC's hit comedy Modern Family in its sophomore season, playing the (until now) unseen, older flambouyant (sic) friend of the show's gay couple, Pepper.
Modern Family executive producer Steve Levitan let the news drop during an informal chat with reporters here at the TV Critics press tour. But casting Lane was a bit of a struggle for Levitan — not because of Lane's talent, but because producers have resisted casting too many big celebrity guests in the show's next season, wary of leading viewers to see the series as a guest-of-the-week pit stop.
'It's perfect casting, and that's why we'll do it,' said Levitan, noting that Lane is expected to film his scenes in a couple of weeks. 'As we looked at that part, we though 'Nobody is going to do a better job.' We figured what he's going to bring to it will far surpass the fact that people are going to know that it's Nathan Lane.'"
Levitan also talked more about the episode that will explain the lack of kissing between Cameron and Mitchell:
"Two of the writers on our show who are gay we're explaining their very different points of view. And one of them is very comfortable [with it]. The picture was shown of the two couples kissing in the airport [from the Hawaii episode] and he said 'I would never ever kiss my partner in the airport.' And I asked why. And he said 'I would feel like I would have that red dot on my head like someone was going to shoot me.'
That's his thing. That's his point of view. That's a legitimate thing. And that's what we get into — what is making Mitch so uncomfortable. It goes to a very surprising place."