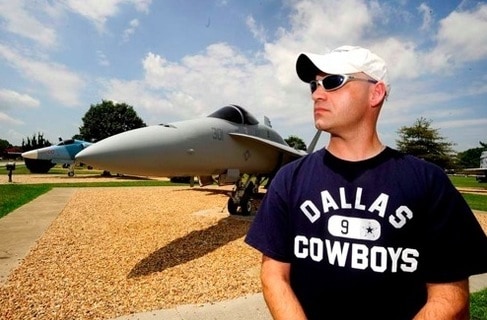 In 2009, Steve Crowston, an ensign in the US Navy, filed a workplace sexual harassment case against his fellow officers after an episode where he was teased with several anti-gay slurs. The officers presented him with call sign options such as "Cowboy," "Gay Boy," "Fagmeister," "Cowgirl," "Romo's Bitch," "TO," "Terrell Owens" and "Redskins." The squadron settled on "Romo's Bitch." According to the Navy Times, the Tony Romo fan was shocked: "I was like, wait a minute? What the hell? You think I'm gay? What a way to tell me that."
The harassment complaint was dismissed in May. Crowston refuses to state on record if he is indeed gay.
Fox News, of all news outlets, has exclusive information regarding the case. Their investigation reveals that, according to Crowston, the inspector general in charge of his complaint was biased, as she reportedly knew the officer accused of the harassment. She is currently under investigation.
From the Fox News article:
In the following months after the alleged call sign incident, Crowston said, the harassment only got worse. He says he was the subject of anti-gay slurs and continued harassment in person and over e-mail from his commanding officers and from his squadron officers. Crowston said he was the target of what he believes to be numerous instances of reprisal from his commanding officers — the same officers Crowston named in his Navy complaint to the inspector general were charged with conducting his review. It was the worst review Crowston received in his 16 years in the Navy, and he said it was entirely unfounded.

Crowston requested a transfer and in February was relocated to the Strike Fighter Wing Atlantic squadron, also in Oceana. On Thursday, Crowston was suddenly reassigned to Naval Special Warfare Group Two, a Virginia Beach-based Seal team scheduled to deploy to Iraq or Afghanistan in the coming months.
Is that how the Navy decides it wants to keep Crowston quiet? By deploying him to a war zone? 
One of Crowston's female friends in the Navy took her own life in 2009. She
left behind a letter in which she stated she was also harassed because of
her homosexuality.
Crowston's complaint has been re-opened.