The Proposition 8 defense team filed papers late last night suggesting they expect the decision won't go their way: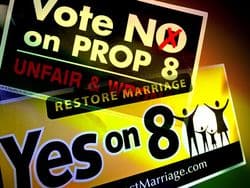 "In court papers filed Tuesday night, lawyers for the Proposition 8 defense team asked Chief U.S. District Judge Vaughn Walker for a stay of his ruling if the outcome is to declare the law unconstitutional. The motion indicates that the Proposition 8 lawyers will immediately ask the 9th U.S. Circuit Court of Appeals to review the ruling if Walker rules against them.
'A stay is essential to averting the harms that would flow from another purported window of same-sex marriage in California,' they wrote…Walker has already refused to allow same-sex couples to marry while the legal challenge is pending, finding that it would create too much uncertainty in the state. Legal experts do not believe same-sex marriages will be permitted immediately, even if the judge overturns Proposition 8, because of the lengthy appeals ahead."