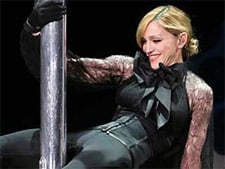 Madonna has been offered a five-year, $1 billion dollar Vegas residency, MTV UK reports:
"The Hung Up singer could follow the footsteps of acts such as Celine Dion and Cher who relocated to the gambling capital of America to performing nightly shows at Caesars Palace. Celine's five-year residency drew nearly three million people to 717 performances, but it's thought Madge would surpass that.
If the deal goes ahead, Madonna would become the third highest paid female entertainer in the world, behind Oprah Winfrey and American homemaking entrepreneur Martha Stewart. "
Recent reports have also had Madonna planning a six-month hip-hop tour.