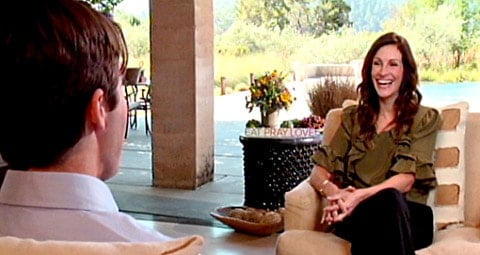 JOSH HELMIN
Not long ago I had the opportunity to fly out to Napa, California, (with my best friend, Josh K.) for the Eat Pray Love press junket. When I finally sat down opposite Julia Roberts for our chat, I explained that I was from a gay news outlet so that she wouldn't be surprised when a couple of the questions skewed gay. She smiled and laughed and said, 'Well, good. I like a little brightness first thing in the morning.'" 
She has a great sense of humor, and isn't afraid to unleash the famous $20 million laugh (see it at 3:05 in the video below, along with aforementioned sense of humor), and also had some great things to say about gay equality and acceptance, not only in the countries where Eat Pray Love was filmed, but also at home here in the United States. Julia hasn't said much in the press about gay rights and equality, so we're proud to bring you this exclusive interview, along with some additional discussion with director Ryan Murphy.
Eat Pray Love opens everywhere Friday.
Watch the interview, AFTER THE JUMP…