GLAAD announces nominations for 2010 Media Awards in advertising.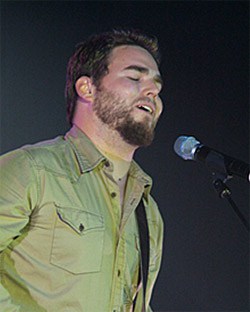 Pentagon investigating after report that dozens of soldiers were punished for refusing to attend evangelical Christian rock concert on base.

True Blood stars get married, run into the ocean.

The Situation: $5 million a year.

Depressed travelers heading to Peru for the hallucinogenic sludge: "Ayahuasca may taste like ground-up earth, but many leave here praising the brew in reverential terms for having purged them of demons and shown them a clarity about life that they never thought possible."

Gay New York writer and former go-go boy Mark Allen to discuss enrollment in Exodus International's program to pray away the gay, in live NYC stage show.

Woman kills ex-girlfriend's Alcoholics Anonymous sponsor for coming between them: "Field left a note for her ex-girlfriend, Renee Williams, in the Brockton apartment they shared stating that she killed Wachsman, a retired school teacher, 'for taking away the love of her life', Flanagan said at Field's Aug. 10 arraignment. The prosecutor said Field stabbed Wachsman three or four times in the back and neck with a serrated knife."

Britney Spears to hit Glee for a second time.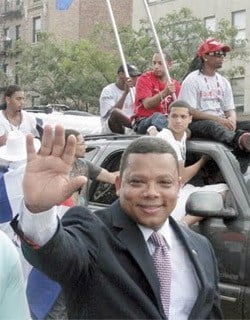 Blabbeando on three Latino New York candidates opposing marriage equality as they run for statewide office.

Nine reasons to remain concerned about the Salmonella egg recall: "It's one of the country's worst food-safety recalls, with more than 380 million eggs stripped from supermarket shelves in the last week over fears of salmonella poisoning. Yesterday the recall spread wider as a second Iowa farm announced it is calling back its products. The eggs are sold under such well-known brands as Farm Fresh, Hillandale, Lucerne, and Ralph's, and over a thousand people have been sickened in California, Minnesota, Colorado, and elsewhere."

New version of Chatroulette launching today.

Catholics for Equality launches.

A Q&A with 'God Hates Fags' pastor Fred Phelps.

Book lovers face onslaught of electronically-tailored ads: "With electronic books, ads can be served dynamically, just like they are online – not only does that remove the problem of out-of-date ads being stuck in old books, but it also allows messages to be tailored to the individual reader. Those reading the Twilight books at the age of 14 can be sold make-up and shoes and all of the other things teenage girls need to attract their very own Edward. Meanwhile, those still reading the books at 35 can be sold cat food. Lots and lots of cat food."

Another massive object observed striking Jupiter.

Fantasia discusses suicide attempt, also has new album coming out: "I just sat in the closet and looked at the mirror and took all the pills in the bottle. I wanted to go to sleep and just be at peace. I knew exactly what I was doing. You can't accidentally take a whole bottle of pills."

Mariah Carey expecting?

Heath Ledger's cousin, Luke Ledger, to pursue acting career.

Book: Vivian Leigh was an adulterous bisexual. "According to author Darwin Porter's book, Damn You, Scarlett O' Hara, Leigh's marriage to fellow star Laurence Olivier was a smokescreen, and the couple were repeatedly unfaithful to each other within weeks of their first becoming lovers in 1937. The book, co-authored by Roy Moseley, a former assistant to Olivier, reveals that unpublished memoirs suggest Leigh had at least three lesbian affairs, including one with fellow British actress Isabel Jeans."