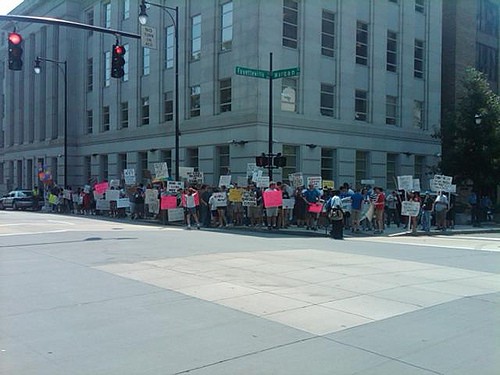 Yes, the National Organization for Marriage's rally is still continuing, and stopped in Raleigh, North Carolina. NOM Tour Tracker is doing an excellent job of covering it, and reports that 61 NOM supporters were met by 255 equality activists in Raleigh.
Among them was our friend, blogger Pam Spaulding. Pam has a full report here.
Below are four videos shot by NOM Tour Tracker.
In the first, Arisha Michelle Hatch has a civilized debate with anti-gay Pastor Olden Thornton. Pam Spaulding is interviewed in the second video.
On the bottom row, NOM tour Tracker talks to nutty NOM supporter Joann Beckman, "who spouts incredibly offensive stereotypes about the 'black community'; cites debunked NOM-affiliated Ruth Institute 'research' on how children of same-sex parents are 'unhappy children' who are products of "genetic manipulation"; and more."
The final video features Tony and Gary Kierkegard with their adopted children Austin and Britney.