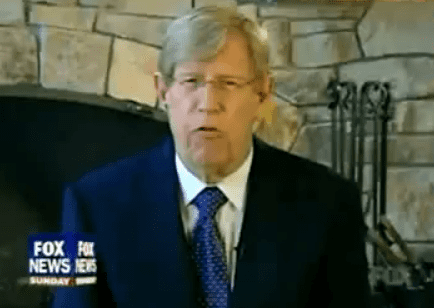 Ted Olson made an impressive appearance on Fox News Sunday to discuss the Prop 8 ruling with Chris Wallace. The host  brought up the same tired talking point about last week's ruling taking away the opinions of seven million California voters. Olson explained things to him this way:
"Well, would you like your right to free speech? Would you like Fox's right to free press put up to a vote and say well, if five states approved it, let's wait till the other 45 states do? These are fundamental constitutional rights. The Bill of Rights guarantees Fox News and you, Chris Wallace, the right to speak. It's in the constitution. And the Supreme Court has repeatedly held that the denial of our citizens of the equal rights to equal access to justice under the law, is a violation of our fundamental rights. Yes, it's encouraging that many states are moving towards equality on the basis of sexual orientation, and I'm very, very pleased about that. … We can't wait for the voters to decide that that immeasurable harm, that is unconstitutional, must be eliminated."
At the end of the show Wallace pays Olson a big compliment, telling him, "after your appearance today I don't understand how you ever lost a case in Supreme Court."
A hi-lights reel of the show is AFTER THE JUMP.
Also AFTER THE JUMP is David Boies' stop on Face The Nation where he faced off with Family Research Council president Tony Perkins wherein the latter brings up the "junk science" the legal team supporting Prop 8 failed to support during the trial.