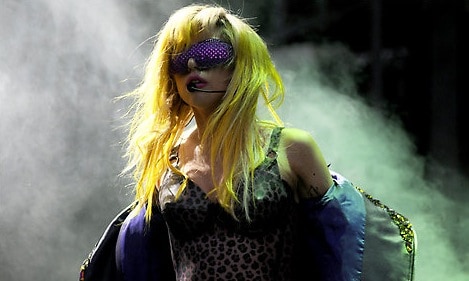 In 2007, Lady Gaga was booked to perform at a small side stage at Lollapalooza. On Friday night, she played the main stage on the show's opening night and thanked her fans for helping her make it there. She told the crowd that critics called her performance at the show three years ago "a train wreck."
The New York Times makes an interesting note of Gaga's ingredients for fame.
But part of Lady Gaga's genius has always been to make her own career a self-fulfilling prophecy of fame, which she has accomplished not only by creating irresistibly catchy music and building a persona around spectacular excess, but also by making her fans feel complicit in the accomplishment. No act since Kiss has been more endlessly flattering — some might say obsequious — toward their fans; hardly a tweet goes by that Lady Gaga does not call out to her "little monsters," and she was careful to do that on Friday night, making her rise to the big time a collective toldja-so moment. It wasn't gracious, but it was indeed the mark of a star.

"We did it, little monsters," she said as she began her encore, "Bad Romance," a song that has been out for less than a year but seems like a standard. "We made it to the main stage at Lollapalooza."
Gaga, who played a two hour set, dedicated her song "Boys Boys Boys" to "all the Chicago gays."
A short clip of her lambasted 2007 performance is AFTER THE JUMP. So are a couple of clip from this year's show where she stage dives into the crowd (twice) during a set by Semi-Precious Weapons, the opening act on her Monster Ball tour.