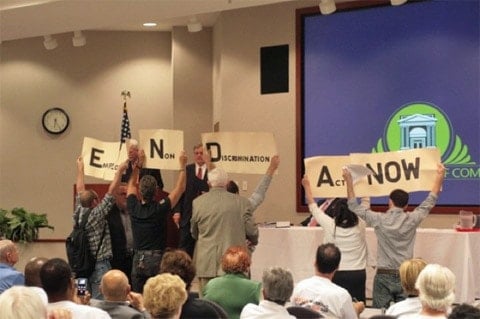 Last night, activists from GetEQUAL, Pride at Work, and One Struggle One Fight held a silent protest at a debate in Vacaville, California, urging Rep. George Miller to take action on the Employment Non-Discrimination Act and move it to mark-up and floor vote.
From the group's press release:
Tonight, GetEQUAL, a direct action lesbian, gay, bisexual and transgender (LGBT) civil rights organization; One Struggle One Fight, an LGBT and allied civil disobedience organization; and Pride at Work, an officially-recognized, LGBT constituency group of the AFL-CIO, held a protest this evening at the debate between Rep. George Miller (D-CA), chairman of the U.S. House Education and Labor committee, and his Republican opponent. The protestors at the Travis Credit Union Auditorium in Vacaville, CA, interrupted the debate in an act of non-violent, civil disobedience demanding that Chairman Miller make good on his promise to pass the Employment Non-Discrimination Act (ENDA) before Congress recesses for the November, mid-term elections.

On March 18th, 2010, after GetEQUAL protested for the passage of ENDA in House Speaker Nancy Pelosi's (D-CA) office, Chairman Miller was asked by the Washington Blade, the Washington, DC-based, LGBT newspaper, when he would move the legislation through his committee. Chairman Miller replied to the question saying, "Right after healthcare". The ENDA legislation has still seen no movement in the U.S. House and healthcare reform passed Congress on March 22nd – nearly six months ago.

"The ability to obtain or maintain employment should have nothing to do with someone's sexual orientation, gender identity or gender expression. They have nothing to do with one's ability to complete any job's objectives and under the law, that should be all employers are allowed to base hiring and firing of an employee on," said Robert Moore, spokesman for One Struggle One Fight.

The protestors reminded Chairman Miller that his campaign slogan, "Keep moving America forward…protect workers" also includes LGBT workers. During the 7-8 pm (PST) debate, the protestors silently walked to the front of the auditorium holding a sign that read: "Miller Markup Employment Non Discrimination Act Now"
The groups are also sponsoring a call swarm today and tomorrow to Miller's office. They are urging folks to call and demand Miller move the legislation, and have provided the following info:
Email: george.miller@mail.house.gov
District Office – Concord: Phone: 925-602-1880
District Office – Richmond, CA:Phone: 510-262-6500
District Office – Vallejo, CA: Phone: 707-645-1888
DC Office: Phone: 202-225-2095
Twitter: http://twitter.com/askgeorge/ @askgeorge
Today, the L.A. Times urged Congress to pass ENDA as well:
There has been heartening progress toward greater acceptance of gays, lesbians and transgendered people in this society. But that doesn't render workplace protection for gays and lesbians unnecessary any more than a decline in racial and religious discrimination lessens the importance of existing anti-discrimination policies. In fact, laws against discrimination can shape public attitudes toward discrimination even in the private sphere.

Democratic leaders in both houses should expedite consideration of the bill as this Congress nears its conclusion. If they don't, President Obama should press them to act. Gays, lesbians and transgendered employees are still subjected to unequal treatment and harassment. Enacting ENDA is a moral as well as a political imperative.