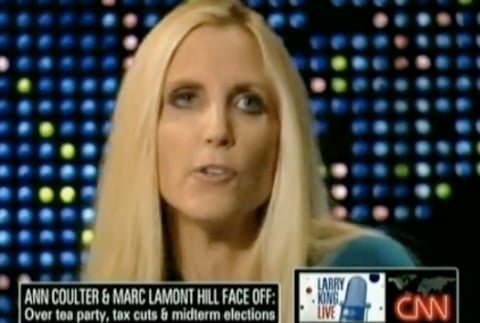 Ann Coulter appeared on Larry King Live last night to debate gay marriage, among other things, with the CNN host and fellow guest, Columbia University professor and progressive activist Marc Lamont Hill.
It's a bit hard to respond to Coulter's persistent insistence that civil rights remain a "black issue," and that "everybody in America wants to be black: feminists, the gays, illegal immigrants.
Coulter later admits doesn't want to see Don't Ask, Don't Tell's repeal. She would rather gays "come out against girls in the military," and claims gay marriage isn't about equal rights, because gay people can marry – someone of the opposite sex, of course.
Watch and respond, AFTER THE JUMP…