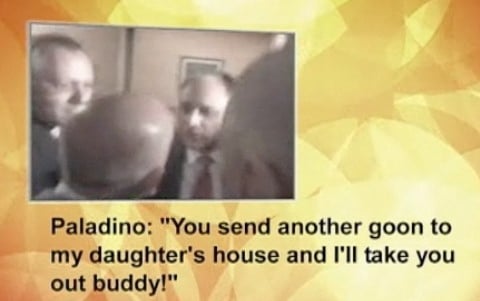 Carl Paladino, New York's Tea Party Republican candidate for Governor, has admitted in the past that he's "angry," and he let us know how angry he can get earlier yesterday, when he threatened a New York Post reporter.
"I'll take you out," shouted Paladino, after Fred Dicker asked the freshman candidate whether there was evidence to support a not-so-veiled allegation that opponent Andrew Cuomo had extramarital affairs while married to Kerry Kennedy.
Paladino, who opposes gay marriage, was also incensed that the Post had sent a "goon" reporter to get a quote from the 10-year old daughter the married business man has from his own affair.
It's an ugly exchange, one that recalls Democratic Rep. Bob Etheridge's tussle with a student reporter earlier this year. The "pro-business advocacy group" Americans For Job Security has since used the incident in a campaign video.
Watch both the Paladino shouting match and the Etheridge commercial, AFTER THE JUMP…