Gay former NBA star John Amaechi tweeted yesterday that he was denied entrance to Crunch Bar in Manchester, UK (where he lives) after the bouncer said he was "big and black and could be trouble."
Pink Paper reports: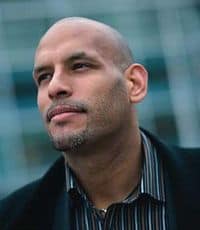 "When Amaechi questioned the decision, the doorman said it was a 'private members' bar.' He then allegedly claimed that the New York Times best-selling author had been flagged up as 'trouble' on the gay village's shared security radio network. A spokesperson for the bar later told Amaechi's representative: 'Your group was stopped from entering the venue on Friday night as a message was received over the NiteNet radio system, (a system where several venues work together within the village, where they announce any issues they have with any customers), that your group had been argumentative and aggressive to another venue's doorstaff. On interview with the staff who were present at the time, we are satisfied that there were no racism or bigotry comments as you suggest. All three staff who were present on the door at the time have been with us for over 14 months and none of them have ever displayed the attitude or characteristics you suggest in your email. You have clearly misunderstood the situation and perhaps justifying your exclusion that evening. We consider this matter closed now.'"
The other bars, VIA and Taurus, which use the NiteNet system deny there was any such warning about Amaechi's behavior.
According to the paper, "Amaechi's representatives have lodged a complaint with the Equality and Human Rights Commission along with a complaint to the Manchester City Council LGBT affairs director, Terry Waller and also with the Greater Manchester Police LGBT liaison office."
Read our recent interview with John Amaechi HERE.