A gay couple from Cheyenne, Wyoming has dropped a lawsuit challenging the state's marriage law, the Casper Tribune reports: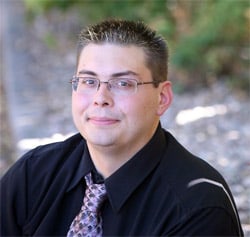 "Plaintiffs David Shupe-Roderick (pictured), 25, and Ryan W. Dupree, 21, withdrew the lawsuit in federal court on Friday. The lawsuit, filed Aug. 13, alleged that Wyoming's law defining marriage as being a contract solely 'between a male and a female person' was unconstitutional. However, the lawsuit came under fire from some gay-rights activists who worried about its legal arguments and Shupe-Roderick's history of litigation and criminal activities. Shupe-Roderick did not return a phone call seeking comment Wednesday."
The couple claimed that the Laramie County Clerk's Office refused to give them a marriage license, though that office has nor record of any such request.
Shupe-Roderick also had a criminal and litigious history:
"Shupe-Roderick had also served four years in the Wyoming State Penitentiary after he, his brother and their two girlfriends left Cheyenne in a rental car in January 2004. They were eventually caught with the car in Arkansas. He's being prosecuted for allegedly stating falsely on his application for a notary public license that he wasn't a convicted felon. Besides the gay marriage case, Shupe-Roderick has filed five other lawsuits in the past three years. A sixth case is pending in federal court in which Shupe-Roderick is suing "Wyoming Child Support Services" — an apparent reference to the Wyoming Department of Family Services — for allegedly intercepting a $643 federal tax refund to pay child support to his ex-wife."
The lawsuit also woke up "family" groups in the state, who say they are now planning to further entrench discrimination into Wyoming's constitution to define marriage "marriage as a union only between a man and a woman."