"My AIDS Death" By Robert Rafsky
When I discovered I was infected with H.I.V., I wasn't worried at first. Maybe I was in denial. My T4 cells, a key measure of immune system health, were high.

I had no use for the AIDS activist group Act Up, which was then half a year old. The organization marched and made noise, something I hadn't done since high school. I assumed it was another front for the doctrinaire left. I was wrong.

At the time I was working in public relations. This is a good story, I thought, still somewhat detached. I said as much to the head of Act Up's newly formed media committee. He looked at me with tired eyes and agreed. Then he put me in charge of the committee.

There was a sense of transformation in the air, both personal and political. If a group of poor, obscure artists could create the "Silence = Death" logo and watch it become an international icon, anything was possible.

Act Up chapters sprang up in every major city. We were ready to move nationally. On Oct. 11, 1988, activists from across the country surrounded the tall, forbidding headquarters of the Food and Drug Administration in Rockville, Md., and demanded faster approval of AIDS drugs. No one could enter or leave the building, so the F.D.A. closed down.

Our tactics worked. The F.D.A. streamlined the drug approval process. The National Institutes of Health, our next target, speeded up the testing of new drugs for the F.D.A. to approve. As people dealing not just with AIDS, but with cancer, Alzheimer's and other diseases understood, this was a revolution.

It's always possible we'll win. The drug, or drugs, that will turn AIDS into a chronic illness like diabetes will finally be discovered. As in the old country-western song, the hanging tree will become our tree of life.

But it's not likely, at least not in time for me. My T4 cells have started to drop again, and now I have to begin chemotherapy for Kaposi's sarcoma, an AIDS-related cancer.

There's not much to do except to keep fighting the epidemic, and those whose actions or inactions prolong it, until I get too sick to fight. I'll try to die a good death, if I can figure out what one is. After that, thanks to the epidemic and what it taught me about myself, I expect to rest in peace.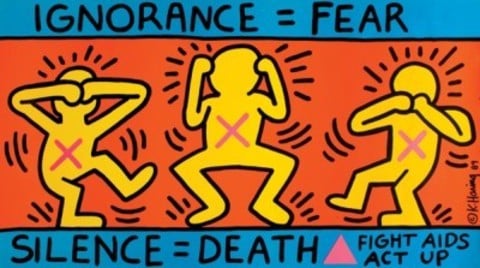 It's likely not on your calendar, although it should be, but today's National Gay Men's HIV/AIDS Awareness Day.
While HIV/AIDS certainly isn't a "gay disease," men who have sex with men remains one of the most at risk populations: the CDC reports that 1 in 5 of these men living in urban areas are HIV-positive and about 44% are unaware. Jeffrey Crowley, director of the White House Office of National HIV Policy office, remarked, "We see large numbers of annual infections. We see very high relative risks compared to other groups, and most disturbing of all, unlike other groups, we see rising infection rates."
The New York Times yesterday ran a feature yesterday called "Op-Ed at 40," a collection of opinion and editorial from the past four decades that included a poignant, timeless piece called "My AIDS Death," by media man and activist Robert Rafsky, who famously confronted Bill Clinton during his presidential campaign, saying, "We're not dying of AIDS as much as we are dying of 11 years of government neglect."
The piece seems appropriate for today.
Read it, AFTER THE JUMP.