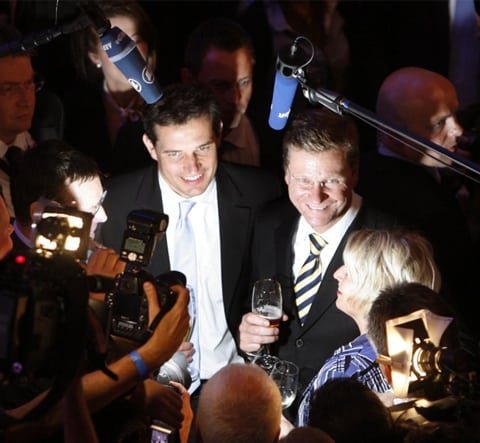 Guido Westerwelle, Germany's foreign minister, entered into a civil partnership with his partner Michael Mronz, the German newspaper Bild reports.
According to Bild, the ceremony was conducted by Bonn Mayor Jürgen Nimptsch was held in Bonn. Westerwelle Mronz and both wore dark suits, the FDP leader a light blue tie, his husband, a yellow-green tie. Approximately 20 people, close family and friends, witnessed the ceremony.
Germany's civil partnerships provide all the rights of marriage except except joint adoption and full tax benefits.
(image taken following Angela Merkel's 2009 election win)