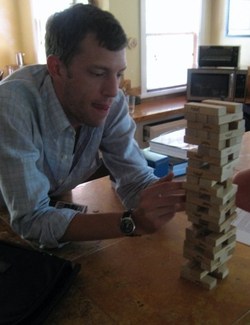 It's been a busy day, and I'm sorry it has taken me so long to say hello, reader.
So, "Hello," I'm Andrew Belonsky, your earnest substitute while Andy's on a well-deserved vacation. Here's a picture of me playing Jenga; even with all that concentration, I still lost. Shame.
Self-description has never been my strong suit, so not sure what to say at the moment, only that I'm thrilled to be writing here at Towleroad and look forward to informing and hopefully entertaining you for the next few weeks.
Any comments, concerns, or ramblings, don't hesitate to let me know. In the meantime, let's see what else today has in store.
xo,
Andrew