"America's farms are presently far too dependent on immigrant labor to pick our fruits and vegetables. Now the obvious answer is for all of us to stop eating fruits and vegetables and if you look at the recent obesity statistics, you'll see that many Americans have already started," said the comedian, who once appeared as the closeted gay teacher Chuck Noblet on Strangers with Candy and has joined the United Farm Workers of America's "Take Our Jobs" campaign, which sheds like on the plight of migrant farmers in America.
Of course, as Colbert pointed out, we need fruits and vegetables: "Unfortunately, my doctor has informed me that they are a necessary source of roughage. As evidence, I would like to submit a video of my colonoscopy into the congressional record."
"Who will take that job?" remains Colbert's underlying, rib-tickling question. Not everyone thought he was funny.
"Maybe amnesty supporters should spend less time watching Comedy Central and more time considering all the real jobs that are out there that require hard labor and don't involve sitting behind a desk," snipped Iowa Rep. Steve King at the hearings, and fellow GOP Rep. Jason Chaffetz tweeted this week, "The Dems have called him [Colbert] as an expert witness. What a joke."
Rep. John Conyers Jr., meanwhile, compared all the attention to that surrounding Bill Clinton's impeachment proceedings. "That's a haunting remembrance," said the Michigan Democrat. That sounds like a ringing endorsement of Colbert's appearance!
Despite being a "hot-button" issue in Washington, many Americans, particularly Colbert's young audience, aren't paying enough attention to the nooks and crannies of immigration reform. It's an idea, one without specifics or human faces.
Colbert, for all his sly smiles and dry wit, wants to raise awareness of illegal existence in the United States, and perhaps change some minds on the process of legalizing undocumented workers.
No matter which way someone leans on the topic, Colbert's appearance will definitely — and has already — sparked civil discourse, a cornerstone of any democratic nation. While the "media circus" aspect of Colbert's entertainment credentials deserves examination, the real focus should be on the funny man's message, one that addresses not only immigration, but also the essential importance of public debate.
Here's video of Colbert's opening statements today: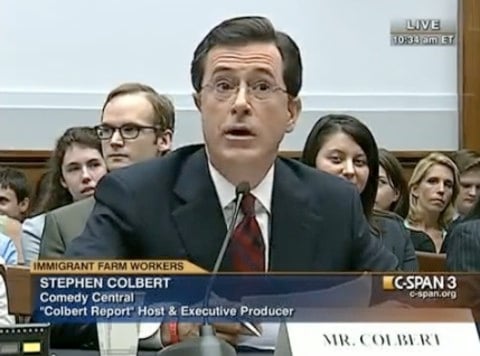 Stephen Colbert appeared before Congress today to discuss illegal immigrants in the farming community, and he did so the politicized character made famous on his Comedy Central Show, The Colbert Report.
"It is an honor and a privilege, Congresswoman [Zoe Lofgren] asked me to share vast experience spending one day as a migrant farm worker. I am happy to use my celebrity to draw attention to this important, complicated issue," said Colbert before the House Judiciary Committee's subcommittee on immigration.
He went on: "[Farm work] was really, really hard… It turns out — and I did not know this — most soil is at ground level." Colbert's comments were humorous, yes, and has some people criticizing Colbert for turning the Capitol into a media circus. But isn't that the point?