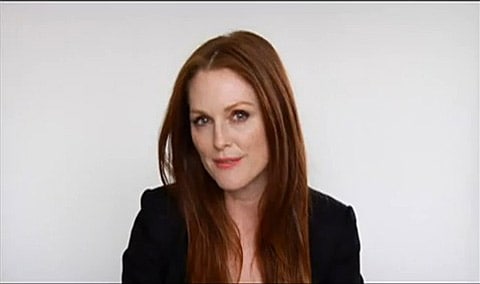 In July I posted about a new effort by the Human Rights Campaign toward marriage equality in New York. The Campaign for New York Marriage, headed by Brian Ellner, has just launched the first in a series of ads intended to lobby public support for the issue.
"The timing of commercials is deliberate, and revealing: With the front-runner in the governor's race, Andrew M. Cuomo, the Democratic attorney general, pledging his support for same-sex marriage, and the Legislature in Democratic hands, advocates are pushing for a new vote early next year. 'We want to build excitement and momentum in advance of that,' said Ellner…As part of that strategy, the Human Rights Campaign and its allies are spending heavily to oust three New York state senators — all Democrats — who voted against the marriage bill last year and who face opponents in the primary on Tuesday: William Stachowski of Buffalo, Shirley L. Huntley of Queens and Rubén Díaz Sr. of the Bronx."
Along with Moore, the ads will feature  Mayor Michael R. Bloomberg,  Rev. Al Sharpton Kevin Bacon, Kyra Sedgwick, Whoopi Goldberg, Fran Drescher, Tom Colicchio,  and Jeanne Moutoussamy-Ashe, the widow of Arthur Ashe.
Watch, AFTER THE JUMP…