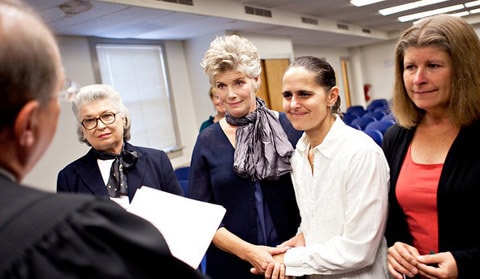 Somehow that doesn't have the same ring as marriage.
It's New Jersey, however, and that's what they've got at the moment.
"Kelly McGillis, the actress, and Melanie Leis, a sales executive, were joined in a civil union on Wednesday morning in Collingswood, N.J. Judge Robert T. Zane III, the municipal presiding judge for Camden County, N.J., officiated at the Collingswood Municipal Court. Ms. McGillis, 53, starred in 'Top Gun' (1986) and 'Witness' (1985) and had a role in 'The Accused' (1988). In recent years, Ms. McGillis, a Juilliard graduate, has appeared on stage, including the title role in the Roundabout Theater production of 'Hedda Gabler' in 1994, and on television, including two 2008 episodes of 'The L Word' on Showtime. Ms. Leis, 42, is a regional sales executive in Philadelphia with Independence Communications, which provides Muzak to businesses. She is a graduate of the Berklee College of Music."