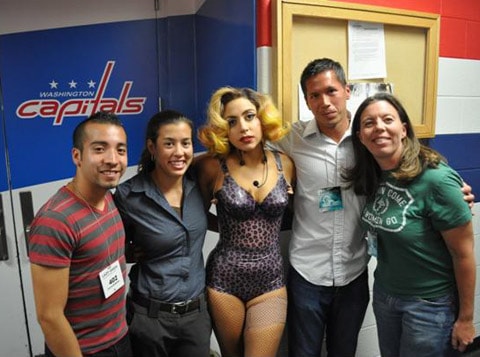 On Tuesday night, Lady Gaga met with former service members and Servicemembers Legal Defense Network (SLDN) clients David Hall, former Air Force Staff Sergeant fired under DADT; Danny Hernandez, former Marine Lance Corporal who was also fired under DADT; Katie Miller, a top West Point cadet who resigned in August to protest the discriminatory law; and Stacy Vasquez, former Army Sergeant, First Class, who was fired under DADT.
She also pitched the need for DADT repeal before performing in the "Monster Ball" at the Verizon Center in Washington D.C.
Said Aubrey Sarvis, executive director of Servicemembers Legal Defense Network: "Lady Gaga's recognition of these fine patriots casts a spotlight on the unjust burden that 'Don't Ask, Don't Tell' imposes upon the brave men and women who defend our country every day, and further underscores why the Senate must swiftly act to get rid of this despicable law for good. With expected votes on the Senate floor later this month, advocates of open service still have time to contact both their senators and urge them to show support for all our veterans by voting to end DADT."
SLDN also issued an action alert for the public yesterday (which hopefully has been given some momentum and pressure by last night's decision in California) urging them to call senators. Details are HERE.