Kramer hesitates to call the 4,000 page history a novel, as publisher Jonathan Galassi has, but does conceded, "[Galassi is] probably right because it makes a lot of claims, and some of them are substantiated more than others, and I don't want to be forced to have to defend everything." In addition to covering golden oldies like Abraham Lincoln's gay tendencies, Kramer delves into little regarded aspects of American life in the nation's early days.
"All history really up to now has been written by straight historians, and they just haven't got a clue," Kramer tells The New York Times' Patrick Healy. "When you read about a lot of them like George Washington, or about Samuel Clemens, you see how important other men were in their lives. Yes, they were married, but the overwhelmingly important relationships and outlook in their lives was homosexual."
The book took Kramer three decades to write, largely because he simply couldn't stop himself from looking even further back than the colonial era. "The history of homosexuality in America starts even before America did, but I didn't know that when I started writing… And the more I wrote, the more I wanted to find out. It became this wild adventure of learning so much about how long we've been here and what we've accomplished and all the pain that we have been through." 
Too bad today's gays have to wait until 2012 for The American People's publication.
Image via David_Shankbone's Flickr.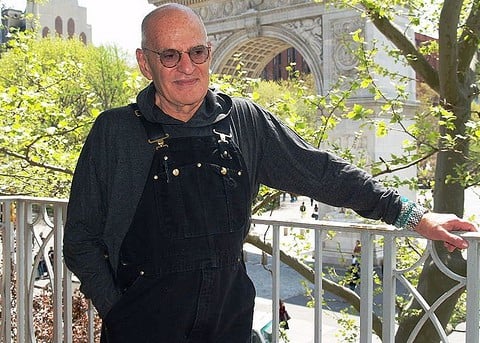 Leave it to seminal gay activist and writer Larry Kramer to achieve the impossible: strike a two book deal.
Farrar, Straus and Giroux publishing company announced today that it will publish Kramer's latest tome, The American People, about the history of gay people on the North American continent, in two volumes. He insists, however, that his payment was "only six-figures:" "The days of the $8 million publishing deal is over."
Kramer's contribution to American gay history, meanwhile, has just begun…