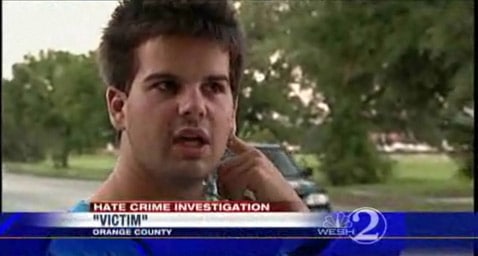 An Orlando man says he feared for his life after he was attacked by a gang of nine teens in Orlando:
"A-20-year-old man told deputies he was walking in the area of Long and Barbara roads when he was approached by the group. The victim told investigators he was asked whether he was gay before the attack. 'One asked if I was gay, and I said, 'What if I am?'' the unidentified victim said. The victim, who said he is bisexual, didn't want to use his name because he is scared of the people who attacked him. 'The next thing I know, I felt somebody hit me from behind, and then they punched me,' the victim said. The victim said the attackers first asked to use his cell phone and then chased him across a field off Clarcona-Ocoee Road. He said he felt a hand grab his neck. 'I have a busted lip on the inside,' the victim said. Investigators with the Orange County Sheriff's Office said because he was targeted because of his sexual orientation, the case will be investigated as a hate crime."
Watch an interview with the victim here.