Andrés Duque at Blabbeando translates an interview with the recently-crowned Miss Universe, Jimena Navarrete of Mexico. Navarrete is asked her opinion about same-sex marriage: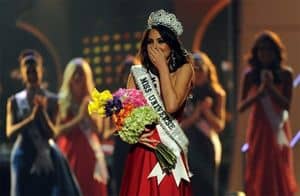 "I believe that every person in this world has the right to profess the beliefs they have and I am in agreement. We have to respect what each human being decides to do with their lives, no? Clearly, there are limitations, of course, also, as there also are with heterosexual couples, no? Better said, there are limitations for any of the two – if they are heterosexual or homosexual – but I believe we have to learn to be respectful because they are people who are the same as us. There is no difference. And I don't believe it's just to discriminate somebody based on the gender they prefer, no? Based on the partner they choose to select, if it's a man or a woman. The truth is that I am absolutely against discrimination and, well, what can I say. I have many friends who are homosexual and I adore them. And they are equal folk: There is no reason we should want to set them aside, there is no reason why we shouldn't let them enjoy what they want to enjoy with their partner."
As you may recall, the Mexican Supreme Court recently declared Mexico City's marriage equality law constitutional and ruled that all Mexican states must recognize same-sex marriages.