According to Movie | Line, Phoenix is obsessed with convincing his entourage to whip their man bits out (he himself does not go full frontal) and that's but one of the 9 most unsettling things about the movie. On a more serious note, Two Lovers (2009), which unfortunately arrived during this tailspin is quite a good movie and Phoenix is excellent in it. Rent it.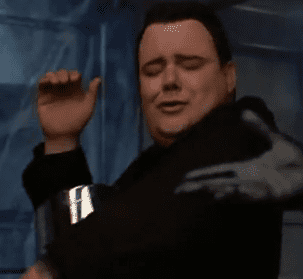 You may have already heard but I thought I should note the death of out gay character actor Glenn Shadix, a Tim Burton regular. Most people remember him as bitchy interior decorator "Otho" in Beetlejuice. He passed away after a fall in his home. He was 58. He rode in the gay pride parade in his home state of Alabama a couple years back while on a break from his movie career, which was shifting to mostly voice work though he had a recurring role on HBO's Carnivàle in 2005.

Lindsay Lohan may be getting her Oprah moment. No one is really confirming or denying but don't expect a hard hitting interview.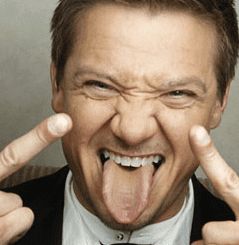 Since we love Jeremy Renner, we must share this tidbit from the Odd Rumor department. He might be playing Hansel next. As in Hansel & Gretel… but all grown up in the kind of awesome / kind of horrible sounding Hansel & Gretel: Witch Hunters. That whole "reintrepret classic stories through modern lens and weird angles" is big right now what with Pride & Prejudice and Zombies also coming to the big screen. Makes you wonder when they're ever going to get around to the movie version of Wicked which seems forever trapped in the pre-production "discussions" phase.

By Ken Levine… a great TV insider blog is playing a bitchy but highly enjoyable movie star game: "When will they do a TV series?"

NATHANIEL ROGERS
…watches trailers through fingers (too many spoilers) and waits impatiently for the feature presentation. He blogs daily at the Film Experience.

Now Playing
You probably never suspected it while watching tiny 11 year old Anna Paquin hyperventilate with Oscar in hand in March of 1994 that she would one day become such an emblem of romantic envy on screens. Firs there was her touch deprived Rogue in the X-Men series, dreaming of the kind of soapy relationships all the other mutants were enjoying. These days she has unbelievably hot naked vampires fighting over her on magazine covers. And in THE ROMANTICS, Katie Holmes wants to trade places with her because she's nabbed Josh Duhamel. Not bad for a gap toothed girl with a grating voice (I kid. I'll always have a soft spot for the star, The Piano being only one of the greatest movies ever made.) I can't recommend The Romantics, though, which I caught at Sundance. Paquin aside, the movie about post collegiate friends coupling off, is hampered by bizarre casting: Josh Duhamel and Katie Holmes as poetry and philosophy loving intellectuals? Er…
Also Opening: Sexy Romain Duris and Mrs. Johnny Depp Vanessa Paradis star in the French romantic comedy HEARTBREAKER; Milla Jovovich is still fighting zombies in RESIDENT EVIL: AFTERLIFE. Maybe she's not very good at it since she's been trying to defeat them for eight years now.; Casey Affleck's celebrity studded documentary (mockumentary?) I'M STILL HERE follows Joaquin Phoenix's surreal career immolation as it happens.
Bonus Scenes


 But what's this we're hearing about Joaquin Phoenix's penis fixation?
More AFTER THE JUMP…