Some news from the Quran-burning front: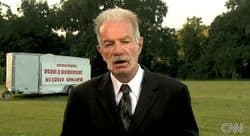 "Pastor Terry Jones today canceled his plan to burn Korans at his Florida church after claiming he has struck a deal with a New York Muslim cleric to relocate the so-called Ground Zero mosque. Jones emerged from his church in Gainesville, Fla., to announce his decision which he said came after days of prayer and said he viewed the supposed deal as 'a sign from God.' The fiery pastor said that Imam Abdel Rauf, the leader behind the Ground Zero mosque in Manhattan, will meet with him in New York on Saturday. 'He has agreed to move it,' Jones said referring to the Ground Zero Islamic cultural center and mosque. 'And we have agreed to cancel our event on Saturday.' …  'Americans don't want the mosque there and of course Muslims don't want us to burn Korans,' said Jones…But as soon as Jones and al-Masri finished speaking, denials were issued that the Islamic community center and mosque would be moved away from its current controversial location. 'The Muslim Community Center called Park51 in Lower Manhattan is not being moved,' read a statement from SoHo Properties, the developer of the community center that is being called the Ground Zero Mosque."
Jones press conference, AFTER THE JUMP…
UPDATE: The Imam says he has not spoken to Jones and the Park51 has no plans to move, Defense Secretary Robert Gates called Jones earlier today and asked him not to burn Qurans; and Jones websites have been shut down by his host due to hate speech.
Said Rauf: "I'm glad that Pastor Jones has decided to not burn any Qurans. However, I have not spoken to Pastor Jones or Imam Musri. I am surprised by their announcement. We are not going to toy with our religion or any other. Nor are we going to barter. We are here to extend our hands to build peace and harmony."
Westboro Baptist Church says it's going to burn Qurans anyway.