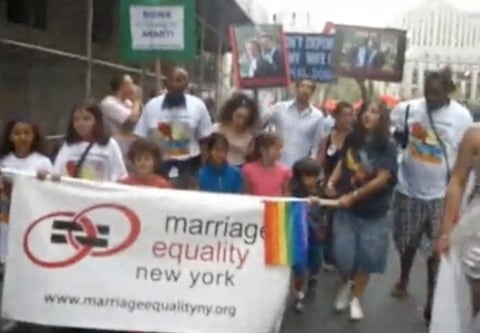 An estimated 300 New Yorkers showed up yesterday for the Seventh Marriage Equality Wedding March across the Brooklyn Bridge.
The effort, which began in lower Manhattan's Foley Square, hopes to pressure Empire State politicos to enact same-sex nuptials. Manhattan borough president Scott Stringer called the lack of inclusion a "state disgrace."
Brian Silva, Marriage Equality New York's event director, put it well when he told the NYDN, "The love, families and relationships of all New Yorkers deserve to be treated equally under the law."
Though the state's LGBT denizens are waiting for marriage equality, Governor David Paterson did take notable steps this month by signing a comprehensive anti-bullying bill and a law allowing gay couples to adopt.
Watch a bit of video from the march, AFTER THE JUMP.