Duncan Osborne at Gay City News looks further into the background of hedge fund manager Paul Singer, who is co-hosting the September 22 fundraiser for the American Foundation for Equal Rights. Singer, as Osborne notes, has a lengthy history of donations to conservative, anti-gay organizations and candidates, but also gave nearly three-quarters of a million dollars this year alone to AFER and the campaign against Question 1 (which banned same-sex marriage) in Maine.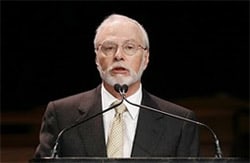 Would family influence be behind Singer's playing both sides of the fence? Perhaps:
"Andrew Singer, the son of Paul Singer, the head of Elliott Management, a multi-billion dollar hedge fund, married Corey Morris on August 29 last year. In public records, the couple now identify themselves with the family name Morris-Singer. More than a year before the ceremony, they registered on weddingchannel.com, and they gave an interview to a New York University journalism student in 2008 in which they said they would be marrying the following year. That article was posted online. Andrew is a doctor in the Boston area, and Corey is a doctoral candidate at Harvard Medical School. The younger Singer graduated from that medical school in 2007. His husband began his studies there in 2004, according to his linkedin.com profile."