A new study out of Iowa proves again that same-sex marriage poses no threat to so-called "traditional" marriage: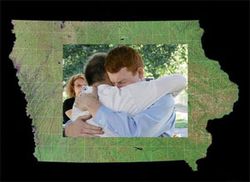 "The IowaWatch study found that similarities range from the way men and women often view marriage to the more mundane tasks of married life, such as doing yard work. Like people in traditional marriages, same-sex couples also talk about raising children and shielding them from the verbal slings of peers, the stability and unit-strength of a family and the value of loving relationships among parents and children, as well as legal necessities and financial security. The study is based on more than a dozen interviews with gay couples and national experts and on an examination of journal articles, marriage statistics, census data, polls and court rulings."
Same-sex marriage appears to be bad for divorce as well: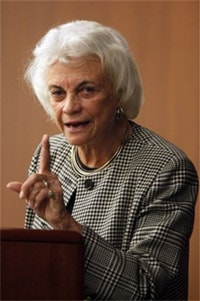 "The angst over marriage in Iowa comes after year in which the state of marriage has made a turn toward statistical bliss: More people got married and fewer split up. Divorces declined to 7,286, the lowest per capita level since 1968, according to 2009 provisional and historical data from the Iowa Department of Public Health. The health department's statistics also suggest gay marriage is not a trend on the fringe. Of the 19,204 couples who bought licenses to marry during the year ending March 31, one out of 10 were gay. In Pottawattamie and Johnson counties, the ratio was one out four. The marriages occurred in 21 of Iowa's 99 counties."
Yet the wingnuts are still champing at the bit to remove those Supreme Court justices who put marriage equality in place by a unanimous vote in April 2009.
ON a visit to Des Moines today, former U.S. Supreme Court justice Sandra Day O'Connor today spoke out against those seeking to alter the courts via election:
"O'Connor only spoke for about 10 minutes, but she was emphatic in her belief that appointing judges on a merit-based system as we do in Iowa is a much better option than voting for judges in a political election. O'Connor arrived at the Hotel Fort Des Moines with a team of secret service agents. No video or audio recording of her comments was permitted while she spoke, but journalists were allowed into the ballroom to listen to her speak. She started off by talking about how much she's always admired Iowa and the way things are done here. She said, 'as Iowa goes, so goes the nation, and I wish the rest of the nation would hurry up and go.'"