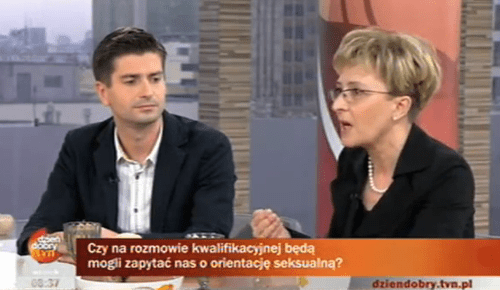 Elżbieta Radziszewska, Poland's equality minister, who recently gave an interview in which she declared her belief that Catholic schools should be allowed to terminate gay and lesbian teachers, outed the gay politician on live television last week. The man, Krzysztof Śmiszek, deputy president of the Polish Society of Anti-Discrimination Law, was appearing alongside her on a program at the time of the outing.
Reports Pink News:
The pair were arguing about her remarks on gay teachers when Ms Radziszewska used Mr Śmiszek as an example of why cases should be treated individually.

According to the Warsaw Business Journal, she said: "If, for example, Mr Śmiszek, in a situation when we know that he is a member of the homosexual society and an activist for the Campaign Against Homophobia and it's no secret who his partner is…"

Ms Radziszewska was asked by the programme's presenters whether she should be on the other side of the argument but she apparently said that was the way she saw it. She later apologised but said Mr Mr Śmiszek's sexual orientation could easily be discovered on the internet.

Mr Śmiszek has reacted furiously to her comments and intends to sue. "This is pure homophobia," he told daily Gazeta Wyborcza on Tuesday. "In no other EU country would such a person still hold their post. I do not hide my sexual orientation, but it's my private business. My personal rights have been violated."
Radziszewska has reportedly apologized to Śmiszek but also stands by her previously stated bigoted opinions.
You can watch the video of the duo's appearance on the aforementioned Polish broadcast, AFTER THE JUMP, but be warned that I was unable to find a clip with an english translation.