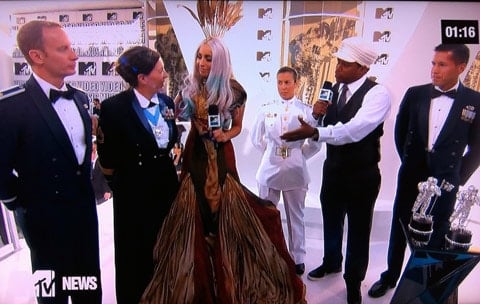 I snapped this screenshot a few minutes ago, as Lady Gaga appeared on the VMAs white carpet with the  Mike Almy, former U.S. Air Force Major discharged under the military's "Don't Ask, Don't Tell" policy; Stacy Vasquez, former U.S. Army Sgt. First Class discharged under DADT; Katie Miller, a top West Point cadet who resigned in August in protest to DADT; and David Hall, former U.S. Air Force Staff Sgt. discharged under DADT.
Said  Aubrey Sarvis, Army veteran and executive director of Servicemembers Legal Defense Network about the appearance:
"Lady Gaga's recognition of these fine patriots casts a spotlight on the unjust burden that 'Don't Ask, Don't Tell' imposes upon the brave men and women who defend our country every day, and further underscores why the Senate must swiftly act to get rid of this despicable law for good. With expected votes on the Senate floor later this month, advocates of open service still have time to contact both their senators and urge them to show support for all our veterans by voting to end DADT."
Lady Gaga tweeted: "Silks, fabrics, shoes + jewels, fashion dreams + breaking rules. Real heroes on my arm, tonight, is for us monsters, and our fight. X"
Upon accepting the award for Best Female Video for "Bad Romance", Gaga again drew attention to DADT, thanking the "discharged soldiers" (below) who came with her, adding, "And thank you to all the gays for remaking this video over and over again."
Watch clips, AFTER THE JUMP…